Update: Sprint adds 36 more Countries & Destinations to its Global Roaming Plan
Sprint now covers more than 110 destinations globally and these recent additions as of January 8th, 2016 makes a huge improvement for SE Asia & Europe. I experienced issues with using data service while in Indonesia which resulted in Sprint advising they only offer voice and SMS coverage which is a bit misleading. Be sure to double check the country prior to your travels.
With the introduction of Sprint Open World, you can now get 3G data speeds for $30/GB which is an excellent price compared to other carriers. If you just want unlimited 2G data speeds then stick with the Sprint Global Roaming Plan.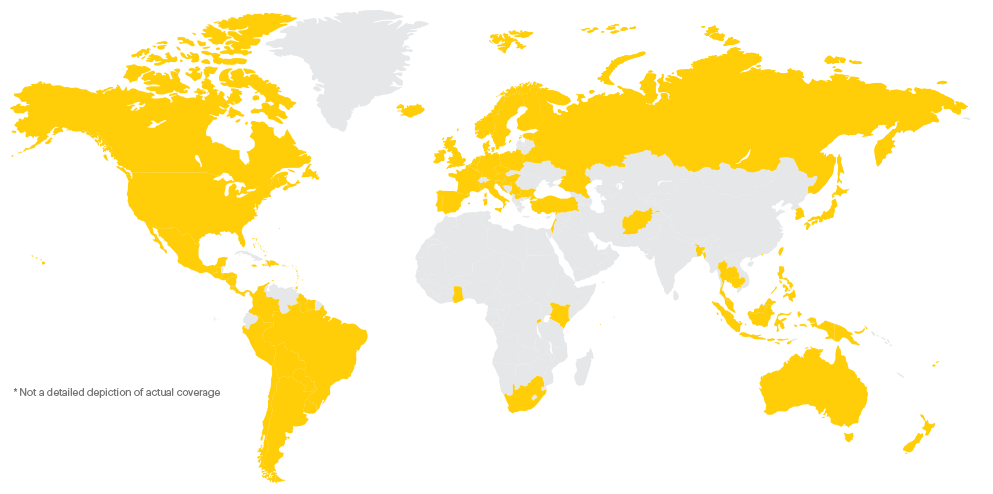 New Global Coverage Map:
Previous Global Coverage Map:
The new countries and destinations include:
Austria
Afghanistan
Bangladesh
Belarus
Belgium
Bolivia
Bulgaria
Cambodia
Croatia
Estonia
Finland
Ghana
Hong Kong
Hungary
Iceland
Indonesia
Kenya
Liechtenstein
Luxembourg
Macau
Macedonia
Malaysia
Republic of Malta
Montenegro
Netherlands
Norway
Philippines
Poland
Rwanda
Serbia
Singapore
Slovenia
South Africa
Taiwan
Thailand
Turkey
http://newsroom.sprint.com/blogs/devices-apps-and-services/sprint-adds-36-countries-and-destinations-to-sprint-open-world-and-sprint-global-roaming.htm