Global Entry Card (includes TSA PreCheck)

I applied for Global Entry in June 2011 and received approval in August 2011. In all it took ~90 days including an onsite visit to SFO for an interview. The card is valid for 5 years and costs $100. This is a complementary benefit for Personal, Small Business and Corporate AMEX Platinum card members which is how I obtained mine at no cost in 2011. Even if you only travel twice per year it would be $10 per trip at that rate.
The amount of time you save having this card is amazing!
Using the Global Entry kiosk upon returning to the US from an international flight eliminates the need to fill out the landing forms which asks for your flight #, declarations, etc. Everything pulls up on the kiosk automatically once you scan your passport and your fingerprints are verified. They even have a "NO to All" option for declarations to make it even faster. A receipt prints which is your "golden ticket" to use the expedited lanes. Once you clear, you are able to grab your bags and use the Global Entry express lane for exiting baggage claim too. One downside is that if you are traveling with a friend who doesn't have Global Entry then you will need to wait for them if you have a connection flight. My most recent experience was at SFO and I was able to clear customs in 1 minute and exit baggage claim in 30 seconds. My friends experienced a 1 hour wait to clear customs as a US citizen. I was almost home by the time they got through.
PreCheck lanes for domestic flights have never exceeded a 5 minute wait during my travels, typically 60 seconds. The fastest line I've ever used is at PDX which took 20 seconds. Just last week it took 3 minutes at LAX Terminal 3 where Virgin America is based.
I highly recommend any traveler to obtain the Global Entry card and not just the TSA PreCheck card. Once you obtain your card, make sure to update your frequent flyer profiles with your Known Traveler # which is the 9 digit number on the back of your card.
http://www.cbp.gov/travel/trusted-traveler-programs/global-entry
http://www.tsa.gov/tsa-precheck/airlines-airports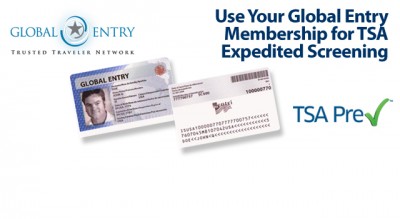 Eligibility for Global Entry
 Global Entry is open to U.S. citizens, lawful permanent residents, Dutch citizens, South Korean citizens and Mexican nationals. Canadian citizens and residents may enjoy Global Entry benefits through membership in the NEXUS program.
Reasons for Ineligibility
Applicants may not qualify for participation in the Global Entry program if they:
Provide false or incomplete information on the application;

Have been convicted of any criminal offense or have pending criminal charges or outstanding warrants;

Have been found in violation of any customs, immigration or agriculture regulations or laws in any country;

Are subjects of an ongoing investigation by any federal, state or local law enforcement agency;

Are inadmissible to the United States under immigration regulation, including applicants with approved waivers of inadmissibility or parole documentation;

Cannot satisfy CBP of their low-risk status (e.g. CBP has intelligence that indicates that the applicant is not low risk; CBP cannot determine an applicant's criminal, residence or employment history)
Applicants under the age of 18 must have the consent of a parent or legal guardian to participate in the program. If an individual does not meet the requirements of Global Entry, their application will be denied.
Applicants must be in possession of either a machine-readable passport or U.S. permanent resident card.