Airline Guide: Virgin America
Since starting service out of SFO on August 8th, 2007, Virgin  America has become a premier US airline and only airline based at  SFO. My 1st flight was from SFO-JFK in November 2007. I was simply amazed at the quality of service, comfort of the seat and amenities provided to keep you busy during the transcontinental flight. Seven years later I am still a huge fan of Virgin America and fully support all the efforts made by all of their employees. The new route launch parties were always a blast including meeting Sir Richard Branson twice. As with any startup in the early stages, they pushed the limits with hosting an inflight Victoria Secret PJ Party with a runway show in the aisle on flight VX317 from JFK-LAX. After the flight, I was told it would never happen again. I'm glad I was onboard.
Highlights
-Mood Lighting
-Inflight WiFi Fleetwide
-120V Power Outlet at every seat
-Live TV
-On-Demand Food & Drink Ordering
-New Planes (A319 and A320)
Cabins
-Main Cabin: Standard coach seat but some of the best pitch distance (distance between rows) for a US airline
-Main Cabin Express: $20 at time of booking, $0 within 24 hours of flight, $0 for Silver or Gold Elevate members, Same physical seats as Main Cabin but in the front half of the plane
-Main Cabin Select: Variable pricing, Same physical seats as Main Cabin but located at bulkhead or exit row, 1 free checked bag, Priority security & boarding, Unlimited food & drinks, Unlimited movies & premium TV
-First Class: Variable pricing, Awesome seat with a massage function and leg rest (not lie flat though), 2 free checked bags, Priority security & boarding, Unlimited food & drinks, Unlimited movies & premium TV
Tips
-Change your seat exactly 24 hours prior to try and grab a MCE (Main Cabin Express) seat within the front half of the aircraft to obtain Boarding Group A access at no extra charge ($20 at time of booking)
-Upgrading to MCS (Main Cabin Select) is also available at this 24 hour prior mark which allows an upgrade at a discount ($39-$159 each way)
-If you are going to pay for a checked bag on a short-haul flight which offers an upgrade to MCS @ $39 you're better off with upgrading as you get a checked bag at no extra charge plus the normal benefits of Main Cabin Select
-Upgrading to First Class is worth it for a special occasion as the seat is very comfortable for a domestic airline and there are only up to 8 passengers for 1 inflight team member to serve you. Excellent service!
-If you have an iPhone you are able to checkin on your phone and use Passbook for your boarding pass (it even let's you know if you received TSA PreCheck for the flight):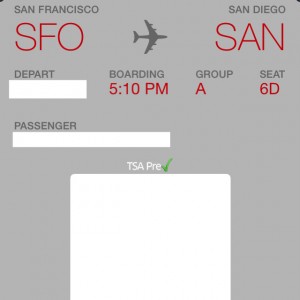 Discounts
-SF Giants Game: Annual Buy 1 Get 1 Free Voucher giveaway around August 8th every year (Occurring on August 16th this year for the 1st 40,000 fans in attendance)
-Gilt City: Various promotions throughout the year (Current promotion: http://www.giltcity.com/national/virginamericaapril)
-Virgin America Marketing Emails: Signup for their Elevate frequent flyer program to receive emails
-Virgin America Visa Card: Annual $150 off companion voucher
Let me know your thoughts about Virgin America!